It's that merky bit when we're frustrated and contemplative that we grow the most. 2020 taught me to make the most of this and to hone that energy in my creativity. For me, it's led to a better, happier life.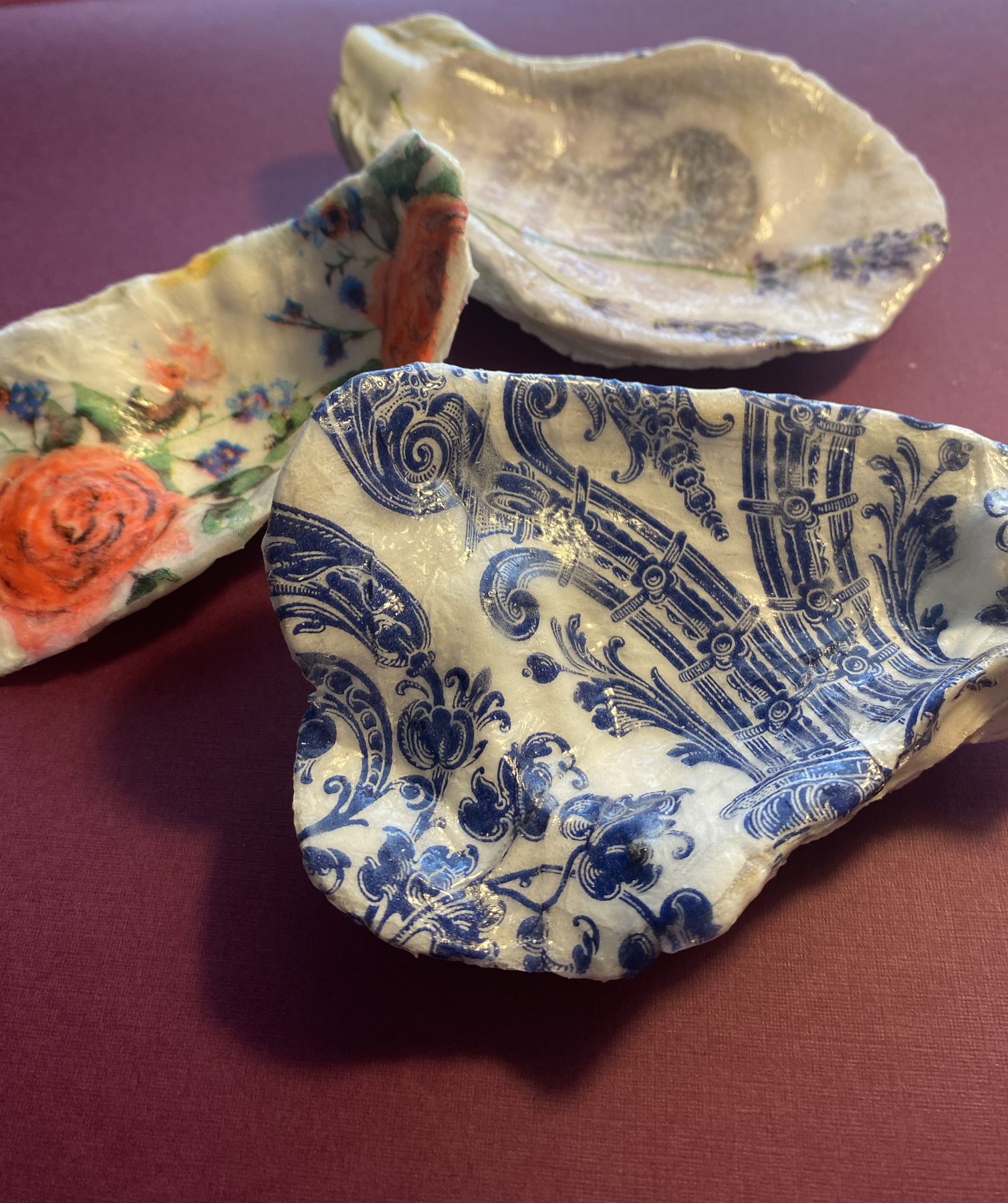 I recently started decoupaging oysters. 
By Melissa McGavock
Everyone is creative. Besides opposable thumbs, it's one of the major characteristics that separates us from the rest of the animal kingdom. Creativity is realized in many different ways, it's not always bound to the visual or literary arts. Some show their creativity in their relationships, or preparing a meal in the kitchen, and even some at work making a mean spreadsheet. Oftentimes, it's solution oriented like with the discovery and shaping of metals, or the invention of the wheel. Creativity is healthy, it is natural and it is important.
As daunting and life-changing as 2020 was for so many of us, it's also given us a chance to reset. We have an opportunity to regain control of our day to day, to re-design our work life balance. I work as a creative for a living. I write brands and creative strategy. I build photo and video creative briefs. I design print materials and websites. And in the past, I've found myself chained to my work, to my clients, leaving very little energy for my own creative endeavors. I was guilty of telling myself I didn't have time, that I owed all of my time to my work because it's what pays the bills and builds me professionally. 
Boy, was I wrong, so incredibly wrong. Not only was this pattern destructive for my psyche, it was detrimental to the creative deliverables I was putting out for my clients (the very thing I swore I was making the best decisions for!) I was tired. Still, I was creating some beautiful things, but also some really bad shit, just to get it out the door and off my to do list. I was so tired and run down, I often snapped at my husband and kids when they didn't deserve it. My wine drinking and cigarette count was at an all time high. And then 2020 happened. I lost my job when the pandemic started and my whole life came to a screeching halt. 
It's been both a painful and interesting year. The thing is though, from struggle usually comes beauty (cue the whole coal pressure diamond theory). What I've found with embarking on my own creative company is the chance to design my day-to-day for the life I want to have. I find time each week to put down my work and do something creative for me. 
Whether it's writing, taking a Master Class or picking up a new craft, no matter what's on my to-do list, I make time for it. And you know what? My clients don't suffer. My family doesn't suffer. My general health has improved. And, even though I'm putting less hours in each week for my clients than I used to, I've found that I'm putting out much better work. As an added bonus, my time is better spent and I'm more more efficient – because I'm not so tired and burnt out. I'm more inspired by the small things. I'm inspired by all that I've learned about myself and about the world around me. I'm inspired by the connections I make with new people. As a creative person, this only makes me stronger. It's like the sun, if I were Superman.
If I can walk away from this experience with any kind of advice, it would be to make time for yourself. Design your life for you and you will be shocked at the positive results. Be the master of your domain and don't be afraid to fail. It's that merky bit when we're frustrated and contemplative that we grow the most. Step out of your comfort zone and do more of what makes you happy. 2020 taught me to make the most of this and to hone that energy in my creativity. For me, it's led to a better, happier life. 
Most recently I started decoupaging oysters. I didn't really have a game plan, I just kinda decided I wanted to try it. I had test oysters, mediums, and papers. Some turned out to be not so great, but I've ended up with about 10 that are gorgeous. I'll eventually gift them to close friends and family. They're weird and unwieldy. They're exotic looking and at the same time practical as ring holders and spoon rests. I'm not sure if I'll continue making them, but I've really enjoyed the whole process.  
The experts agree that its healthy to have a creative outlet.
"In a San Francisco State study measuring employees with a creative side project and those without, those with a creative hobby were more likely to be helpful, collaborative, and creative with their job performance. Best of all, side projects are unlike whatever you'd experience at work. They're low-risk, low-pressure, and something you love doing." (source www.spring.org.uk)
New year, new oyster. Get out there and make something, learn something, design your life the way you want to.
We create, innovate, and deliver marketing solutions for purpose driven entrepreneurs.
Business to comsumer marketing, or B2C marketing, refers to strategies in which a business successfully markets its services and products to target audiences.
Start with a brand guide. Realize your full potential by extending your new brand elements across appropriate digital and print marketing channels.
Service Hours
9:00am - 5:00pm
And by appointment.
Copyright © 2021 All right reserved.